Focuser Pelican Wood Carving Knife FC003
Regular price
$31.99
$0.00
Unit price
per
Function : Very Good For Skew Cutting.
Blade : O1 Tool Steel.

 

(

Not for hardwood carving, Basswood is better

)
Rockwell : RC 59-60.
Handle : Beech Wood. 
Production Method : Hand-made.
Blade Length : 42MM.
Blade Width : 12MM.
Blade Thickness : 1.8MM.
Handle
 Length : 235MM.
Handle
 

Width : 25MM.
Handle
 

Thickness : 15MM.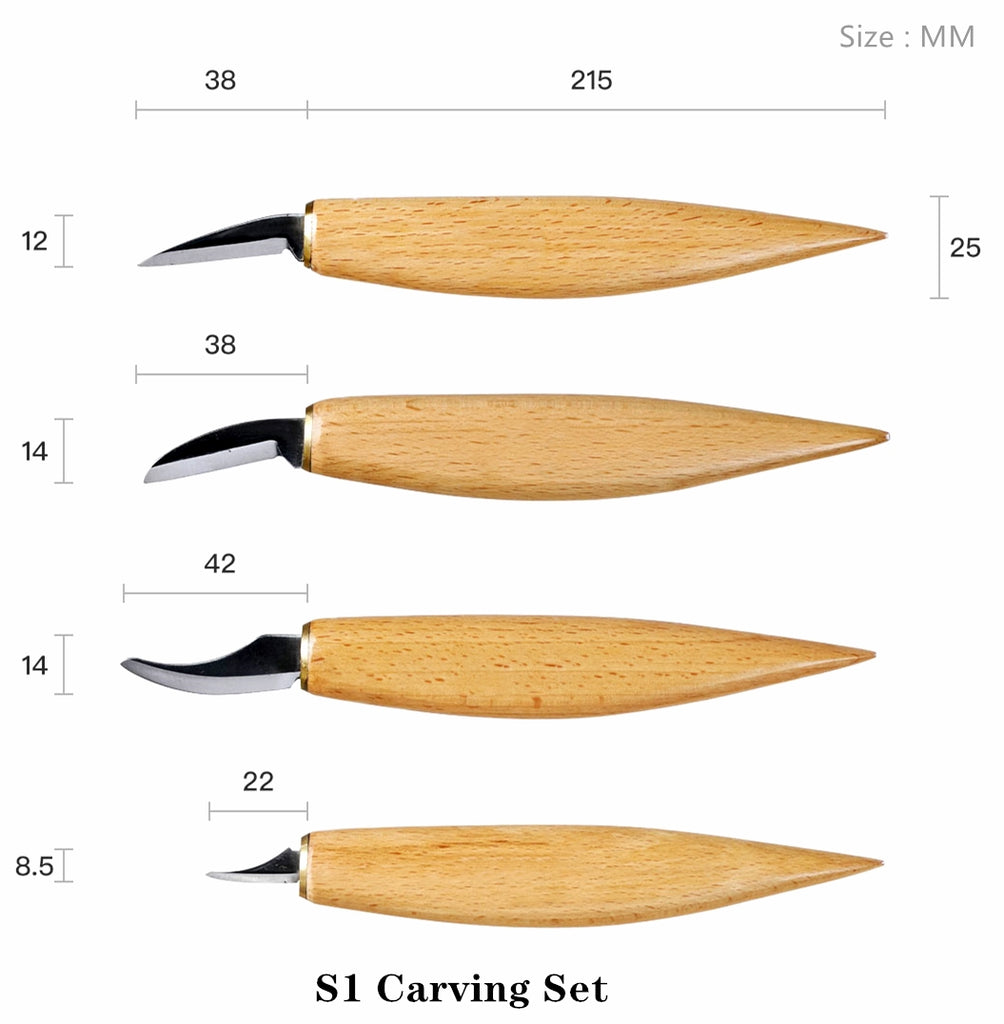 1. Our Team
Our team focus on artistic creation products.
Mike Simonou is one of the founders of the team and is responsible for the management and operation of this project.
The coffee art brand Barista Space is one of the best coffee tool brands in the world. It has a great reputation in the world coffee industry and is used by baristas in many coffee shops every day. You can check the website and Barista Space social networking .
Focuser means, the man who focusing on the art of carving,
And for us, also focus on making more innovative designs and good quality products.
2. Our History
Founded in 2015, our company mainly provides products for artistic creation.To meet the needs of art lovers and all kinds of art professionals.
Focuser Carving, first of all, we've been thinking.The demand of many carvers is that the products are of high cost performance and good quality, but it is difficult to buy them.
So we have to make amazing products, so that more friends can join the ranks of artistic creation.
After we established the company, we started to think about the direction in 2015, and prepared to face the market. we started product development and launched the brand in 2019.
3. Our Goal
From the very beginning, our products were designed from the user's point of view.
Our brand is always willing to explore new designs, if you have good design ideas, please let us know.
With the help of our friends of Focuser Carving, our innovative series of Carving tools is becoming more and more popular and varied.
Our factory also continues to add the most advanced equipment and our supporters continue to communicate, so that we can focus more on the design and good use of products.
Focuser Carving trying best to present the carving field a good brand. produce highest quality products, for every man who focus on carving.
If you want to buy some garden tools, pls see Shaper Pruning
Any Questions Please Contact - Mike Ou:
Whatsapp: +86 18802603047
Email: simon@cijajacoffee.com
---
Share this Product
Monster carving with FocuserCarving
Review From:
https://www.instagram.com/p/CiQ-XjHMHp8/
Little Frankensteins Monster carving to kick off Halloween carvings.
Been super busy and haven't been carving little guys much lately but I finally got around to using my @focusercarving rough out knife.
#whittle #whittling #whittlingwood #whittlingknife #carve #carving #carvingwood #carvingknife
Very good knife! I love them.
See these reviews here:
https://www.instagram.com/p/Chhlv_Nj3fH/
Progress on this little goblin.
First project with the @focusercarving.official knifes and i love them.
Very good knife!
Give them a try if you can 😍😋
#woodcaricatures #goblin #focuscarving #woodarts #woodarts #art #whittelingwood #woodwork
Outdoor carving with FocuserCarving
See review here:
https://www.instagram.com/p/CiA1GF_IR4p/
FC003 from @focusercarving
#woodcarving #handcarving #ahşapoyma #eloymasi #woodenring #ring #ahşapyüzük #woodenjewellery #woodwork #woodenart #ahşaptakı
I love working with this knife
See review here:
https://www.instagram.com/p/CfWSlO3DmNh/
Sem ferramentas o entalhe não acontece!
Essas duas colheres eu entalhei usando apenas duas ferramentas, a boitatá (faca curva) ferramenta incrível, forjada pelo amigo @guisiqueira. E a Pelican knife feita pela @focusercarving, eu amo trabalhar com essa faca!
Without tools, the carving doesn't happen!
These two spoons I carved using only two tools, the boitatá (hook knife) amazing tool, forged by my friend @guisiqueira. And the Pelican knife made by @focusercarving, I love working with this knife!
.
.
#woodenspooncarving
#colherentalhada #tools
#hookknife #pelicanknife
#colherdecorada #colherentalhada
#colher #artesanal #fazendoarte
#handsmade #handscraft #artdesing
#artebrasileira #entalhe #madeira
#arteemmadeira #arteemandamento
#woodcarving #making #makingart
#artoninstagram #originalartworks
#artenamão #woodworker
Finale gekommen vom Schnitzwettbewerb von @focusercarving
Review From:
https://www.instagram.com/p/CeWlp0yjSXP/
Ich bin ins Finale gekommen vom Schnitzwettbewerb von @focusercarving. Die jetzige Aufgabe war das freie schnitzen. Ich habe mich an einer Person versucht. Ich habe alles gegeben und hoffe dass ich einen guten Platz erziehle.
Deutsch/ german:
Im Alter von 8 Jahren sind meine Familie und ich in ein Wikingermuseun gegangen. Dort habe ich eine Person gesehen die eine Schüssel mit verschiedenen Werkzeugen geschnitzt hat. Ich war so fasziniert, dass als ich zuhause war mir ein paar Stechbeitel gekauft habe. Dabei habe ich meine Leidenschaft für Holz und dessen Bearbeitung entwickelt. Ich habe ein paar Figuren damit geschnitzt aber, das ging nicht so gut wie erwartet. Ich wollte Schnitzmesser haben, aber meine Eltern haben mir die nicht erlaubt da sie zu viel Angst um mich und meine Finger hatten. Zu meinem 14 Geburtstag habe ich meine ersten Schnitzmesser bekommen. Von da an habe ich angefangen zu schnitzen. Jetzt bin ich 15 Jahre alt und versuche mich weiter am schnitzen und probiere immer wieder neue Sachen aus. Durch meinen Instagram Account @holzwurm_200701 teile ich meine geschnitten Skulpturen mit der Welt.
Englisch/ english:
At the Age of 8, my family and me went to a viking museum. There I saw a person carving a bowl with different tools. I was so fascinated that I bought a couple of chisels. I developed my Passion for wood and it's Processing. I used to carve a few figures, but it didn't went like I tought. I wanted carving knifes but my parents wouldn't let me have them because they were too scared for me and my fingers. I got my first carving knifes for my 14 Birthday. From then on, I started carving.
Now I am 15 years Old and I am always trying new things. Trough my Instagram account @holzwurm_200701 , I Share my carved sculptures with the world
.
.
.
.
.
#wood #woodcarving #woodcarvingskills #woodcarvingknife #woodcarvingartist #carvings #carving #carvingwood #woodcarvıngart #art #woodenart #whittling #whittlings #woodwhittling #whittlingwood #fcoc2022
---