2.0 Focuser Wooden Spoon Carving Middle Knife FC007
Regular price
$50.99
$0.00
Unit price
per
Blade : O1 Tool Steel.

 

(

Not for hardwood carving, Basswood is better

)
Rockwell : RC 59-60.
Handle : Beech Wood. 
Production Method : Hand-made.
This hook knife with single-edged blade for your right hand ,specifically to cut out spoons, bowls, or some of your whittling projects.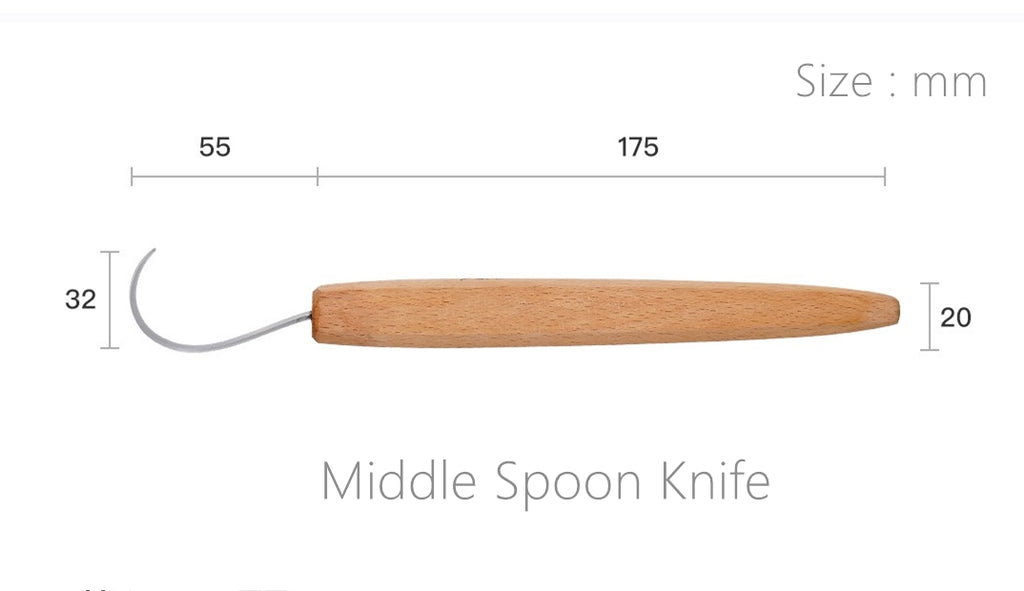 1. Our Team
Our team focus on artistic creation products.
Mike Simonou is one of the founders of the team and is responsible for the management and operation of this project.
The coffee art brand Barista Space is one of the best coffee tool brands in the world. It has a great reputation in the world coffee industry and is used by baristas in many coffee shops every day. You can check the website and Barista Space social networking .
Focuser means, the man who focusing on the art of carving,
And for us, also focus on making more innovative designs and good quality products.
2. Our History
Founded in 2015, our company mainly provides products for artistic creation.To meet the needs of art lovers and all kinds of art professionals.
Focuser Carving, first of all, we've been thinking.The demand of many carvers is that the products are of high cost performance and good quality, but it is difficult to buy them.
So we have to make amazing products, so that more friends can join the ranks of artistic creation.
After we established the company, we started to think about the direction in 2015, and prepared to face the market. we started product development and launched the brand in 2019.
3. Our Goal
From the very beginning, our products were designed from the user's point of view.
Our brand is always willing to explore new designs, if you have good design ideas, please let us know.
With the help of our friends of Focuser Carving, our innovative series of Carving tools is becoming more and more popular and varied.
Our factory also continues to add the most advanced equipment and our supporters continue to communicate, so that we can focus more on the design and good use of products.
Focuser Carving trying best to present the carving field a good brand. produce highest quality products, for every man who focus on carving.
If you want to buy some garden tools, pls see Shaper Pruning
Any Questions Please Contact - Mike Ou:
Whatsapp: +86 18802603047
Email: simon@cijajacoffee.com
---
Share this Product
New spoon With FC007
Review from:
https://www.instagram.com/p/CmQ22epjSrc/
Working on a new spoon 🐐🥄🎄
.
.
.@focusercarving
.
.
#spoonlicious #spoonmaker
#woodmug #kuksacup #woodcraft #dowoodworking #greenwoodworking #carvedwood #woodart #spooncarving #woodcarving #folkart #woodfolk #woodcarver #handcarved #woodendish #woodcarvingart #slöjd #woodartist #woodcraft
Good knife!! thank you!!
Review from:
https://www.instagram.com/p/Cm_DQ5NPe0j/
포커스 카빙나이프
두가지 스픈나이프
도착하자마자 스픈카빙
사용감 절삭력 모두 맘에 듭니다
마감까지 아주 부드럽게 되고
잘 만들어진 제품이네요
지난번 카빙 나이프에 이어 만족스럽네요
오픈커브 나이프는 포커스 카빙에서 제공받아 사용했습니다
일반 스픈나이프는 구입했고요
배송은 2주정도 소요되었네요
전문가용 스픈나이프로 손색없습니다
#스픈카빙#스픈나이프
#크룩나이프#구부러진칼#목공예
#우드카빙
@focusercarving
@focusercarving.official
Good knife!! thank you!!
From @focusercarving for the bowl
Review from:
https://www.instagram.com/p/CodfLPHpNhF/
Just showing a bit of the process on todays spoon carving . From @focusercarving for the bowl to actually using the @bear_forest_knives wood butcher to remove and shape the blank more.
I was inside and don't have a set up to use the axe but this worked just fine .
Then on to the @knives_by_nuge puukko for all the finer carving. I'm still not done but.
Hopefully ill finish it tomorrow. Hope everyone has a great evening 💪🏻
🌲🌲🌲🌲🌲🌲🌲🌲🌲🌲🌲🌲🌲🌲🌲🌲🌲🌲🌲🐦🌲🌲🌲🌲🌲🌲
.
.
.
.
.
#sparrowbushcraft #tribeofthesparrow #spooncarving #woodenspoon #carvingtools #woodcrafts #bushcrafters #whittlingwood #spooncarver #woodcarving
This hook knife is beautiful and feels sturdy. works flawlessly
See review here:
https://www.instagram.com/p/CiRmHTxDH-6/
New Hook knife from @focusercarving @focusercarving.official .
This hook knife is beautiful and feels sturdy. I finished this spoon with it, it works flawlessly,
can you tell it by seeing the bowl ?!! Love it😍♥️🥄🔪🪓🌲👍
In this video showing me making facets on the handle of my spoon. The wood is still green, I just finished the blank this morning.
I just can't wait to test the performance of my new sloyd knife from @focusercarving @focusercarving.official with my own made handle 😍😍👍👍.
Actually for some woods I don't wait the blank to dry first then carve it, I just straigh to carve it from the blank I made to let say 70 persen then I slow dry it for a week, then fully finish it after it loses it's moisture. Well I can say I love the new knife😍😍🔪🥄🪓🌲🥄💪🔥
Carving a cooking spoon - Part 2
See Video here:
https://www.instagram.com/p/CbYlr0RlOf_/
Hand carved from fresh plum wood using my roughing knife from @flexcut.tools and bowl carved using my new hook from @focusercarving
.
.
This is my first time carving plum and it brought some challenges but the colour is beautiful, deep rich brown with a hint of purple. I went abstract on the handle, incorporating the remains of a branch in the handle.
.
.
#spooncarving #carving #woodcraft
#marchemeetthemaker #spoon
#meettheflexcutmaker #woodlove
#learnsomethingnew #purple #learntocarvespoons #woodporn #learntospooncarve#cookingspoon #learn#carvedwoodenspoon #handcarved #handmande #asmr #newbrunswick #oneofakind #asmrwoodworking #dailyspoon
#reels #reel #igreels #igdaily
---